On principle, Liyana is a film I ought to love and not just like. 
Aaron and Amanda Kopp's films witnesses the creation of the title character, Liyana, in a school for orphans in Swaziland. In intersperses lovingly crafted animation with interviews of the children who craft her story and the woman, Gcina Mhlope, who guides and instructs them in the art of collective storytelling.
One would have to be a hardened cynic or an indifferent, listless soul, to not feel somewhat stirred by the way the orphans transform the trauma that is the backdrop of their lives into art that allows them (and us) to process that trauma. Swaziland, we are told, has the highest HIV infection rate in the world, with 27% of the adult population infected. With a population of 1.2 million, the country hosts 200,000 orphans. By way of comparison, the United States is estimated to have 400,000 orphans among a population of 325.7 million.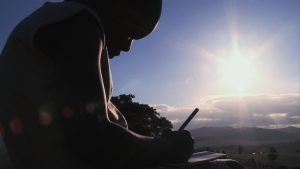 It is not surprising then that the story these five particular orphans create is one populated by an in indifferent father who abandons his family and a helpless grandmother who sends a young girl on a quest to free her twin bothers from thieves and kidnappers. What is surprising is the lack of bitterness or resentment the orphans appear to have towards life. The two descriptors most often repeated about the way they want their protagonist to be perceived are "strong" and "courageous." When one of the orphans is asked what Liyana will say when she herself is captured by the thieves he insists that "she will say….she will say…'I'm sorry,'" as though rescuing adolescents from human kidnappers is a reasonable burden to place on a young girl.
My one concern here is that the film admittedly can sometimes play like a "making of" featurette for the full-length story of Liyana that doesn't actually exist. While the film conveys and stokes a love of art and narrative, the origin story doesn't have the same power it would if the final product were already known and beloved. Liyana tries to be two movies in one: the animated representation of the story the orphans create and a documentary about that creation. At 77 minutes, it doesn't really have time to do both. As a result, we get half of two great films rather than one whole one.
Yet despite those limitations, Liyana is nevertheless a worthwhile and inspiring crowd pleaser.
Liyana will premiere at the IFC Center in New York City on October 9, 2018, and then expand to selected cities.