SXSW 2018 — They Live Here, Now
Some to Misery are Born
Every Morn and every Night
Some are Born to sweet delight
Some are Born to sweet delight
Some are Born to Endless Night
We are led to Believe a Lie
When we see not Thro the Eye
Which was Born in a Night to perish in a Night
When the Soul Slept in Beams of Light
God Appears & God is Light
To those poor Souls who dwell in Night
But does a Human Form Display
To those who Dwell in Realms of day
— William Blake, "Auguries of Innocence"
William Blake's poem "Auguries of Innocence" is probably best known for popularizing the expression "to see the world in a grain of sand." Director Jason Outenreath sees immigration as "possibly the most important, all-encompassing issue facing the world today." Casa Marianella, an emergency homeless shelter in Austin is his grain of sand.
If Outenreath doesn't have Blake's same intensity of outrage about those "poor Souls who dwell in Night," his film "They Live Here, Now," still manages to present an effective contrast between the human form of actual immigrants and the monsters that political scaremongers make them out to be.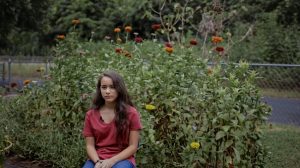 The portraits of actual refugees sharing their stories are effective enough that the film's choice to intersperse their stories with two actors playing a father-daughter refugee family is unfortunate. The press notes clearly identify Nayeli as a character, played by Mexican actress Regina Casillas. There can be reasons for mixing fictional stories with those of real people, but given the current political tendency to accuse everything that contradicts one's own narrative as "fake news," the drawbacks of blurring the lines between fact and fiction probably outweigh any gains.
For example, the story of Mario C. is all the more powerful for actually being real. The immigrant from El Salvador speaks of being against coming to the United States initially and nearly freezing to death while riding on the top of a truck through the desert en route to a border crossing. He is almost immediately caught by the border patrol and moved to a detention center.
One particularly striking element of Mario's story — one that recurs in many of the speeches from real subjects — is the gratitude expresses for small acts of kindness. To a man (or woman), those sheltered express thanks for the shelter and the volunteers who run it. That's easy enough to wrap one's mind around. But Mario recalls shivering uncontrollably, being on the verge of shock, and having someone he may never see again give him a blanket and a sweater.
Poverty is so much easier to dismiss when it is an abstraction. For how many of us is the thickness of a blanket the distance between life and death?