Oh Lucy! (Hirayanagi, 2018)
Warning: This review contains plot spoilers. 
Oh Lucy! begins with a suicide and ends with a suicide attempt, so it is somewhat unfortunate that it is being billed as an "offbeat dramedy" about a "bored Tokyo office lady" who "breaks free of her monotonous life."
The ad copy is disappointing but not surprising. Oh Lucy! is the sort of good-but-between-the-cracks movie that Film Movement has been rescuing from the long tail for over a decade now. It was nominated for two Independent Spirit Awards (Best First Feature and Best Actress) and is an extension of Hirayanagi's short film, which played at Cannes and Sundance.
Lucy is the name given to Setsuko (Shinobu Terajima) during a free trial of a conversational English class for which her niece wants her to assume the payments. Her teacher, John (Josh Hartnett) gives her a blonde wig and emphasizes that speaking American English is as much a mindest as a discipline: "You have to be lazy and relaxed."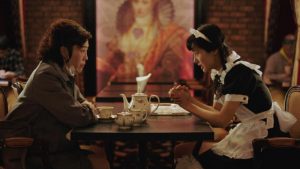 This first act is sweet enough, with the niece chanting a magical incantation over her aunt's tea and a portrait of an office life counted out in drawers full of uneaten sweets instead of coffee spoons. But as in many well-written smaller films, the little details help establish theme and character in addition to advancing the plot. We learn that Setsuko is impulsive and — in an important aside — that her sister "stole" the man she was dating.
These details turn out to be important when Setsuko and her sister travel to America to try to find the prodigal niece/daughter who has run off with the English teacher. The weight of genre expectations is heaviest in these middle scenes, and we settle in expecting some sort of sororal reconciliation played over a fishes-out-of-water road trip.
The film turns out to be smarter and more daring than that, though I suspect the turn to the third act will lose more than a few viewers. It is here we begin to understand that the film is truly about Setsuko and that her openness to speaking a new language and becoming a new person reflects a deep-seated unhappiness with the life she feels stuck in. "This is the magic part," John says when giving Setsuko the blonde wig. She knows the wig has no more mystical powers than the words her niece speaks over her tea. She knows, too, even as she pleads with someone who doesn't reciprocate her feelings that her plans of making a new life in America are a kind of magical thinking.
There are very few movies about middle-aged women, and American movies almost reflexively treat the notion of anyone over thirty having sex (or sexual feelings) as farcical. (Even the film's distant American cousin, Hello, My Name is Doris, sublimates its heroine's sexuality behind more than a few layers of self-conscious self-deprecation.) Terajima does a wonderful job at conveying Setsuko's layers of self-protective numbness that only occasionally allows us to see glimpses of an emotional core that is half-stunted, half-repressed. A lesser actress would probably play Setsuko as more aggressive in pushing her public mask, but there is a difference between repressed and harnessed emotions. It is her clumsiness that makes her fumbling, sudden attempts at expressing and pursuing her desires poignant (tragic?) rather than comedic.
Given the strength of Terajima's performance and the quality of Hirayanagi's writing, I was a bit deflated that the climax did not have more impact. I make no claim that the director was referencing any other movie or auteur, but the interrupted act of self-destruction to emblemize grace has been used so perfectly by Jean-Pierre and Luc Dardenne in two separate movies. Consequently, Oh Lucy's climax may feel telegraphed. It was the one place where I felt as though I was two steps ahead of the film instead of vice-versa.
The Film Movement DVD, which hits streets on June 5, also contains deleted scenes and an interview with the director. It's recommended, but it's not, not, not a comedy.
★★★ (3/5)