Served Like a Girl (Heslov, 2017)
You can be a soldier and still be feminine. You can be a soldier and still be a mom. You can be a soldier and still be homeless just months after leaving the armed forces.
The beginning of Lysa Heslov's Served Like a Girl is a montage of glitter and color, with ball gowns and makeup filling the screen. For a moment, I was a startled. With the knowledge that the documentary is about female veterans who are now attempting their transition to a life as citizens, the beginning seemed out of place. Maybe I expected the film to open with camouflage and weapons, not high heels and lipstick. This gave me pause. I realized that I was projecting my view of what a female soldier was – someone stereotypically tough, with more masculine mannerisms and preferences.
Served Like a Girl completely changed my perspective of a female soldier. The documentary is set against the backdrop of the Ms. Veteran America contest and follows seven different women competing in the pageant to be the next Ms. Veteran America. For some, the motivation behind joining the pageant is personal, like the death of a loved one. For others, it is to raise awareness for other homeless and disabled veterans.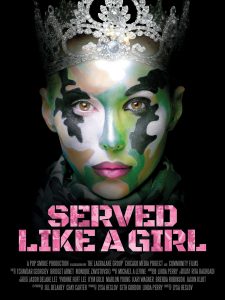 The injuries and hardships that these women face are as different as their personalities. Marissa Strock lost both of her legs below the knee, a highly visible and painful injury. Meanwhile, Hope Garcia struggles with PTSD and trauma from past sexual assaults. PTSD is an invisible injury, but no less painful. I appreciated this diversity. Just as the film does not offer just one perspective of a female veteran, it also does not just offer one perspective of disabilities.
The documentary also highlights the relationships that each of these women shares with their families and loved ones, which allowed the viewer to get to know the women on a more personal basis. It follows Garcia as she struggles to soothe tensions with her mother and Nichole Alred as she addresses the trauma connected to her father's unsolved murder years prior. Although these can feel unconnected at times, they all fall under the umbrella of expressing the diverse nature of their struggles.
Rachel Engler, a former cheerleader turned lieutenant commander, summarized the struggle these women face with adjusting to civilian life, saying: "I'm a G.I. Jane. I can't be feminine anymore." The pageant is a time where the women can both perform push-ups and play piano before changing from camouflage to fancy dress. In short, the pageant is more than a pageant. It is a chance for these women to be themselves after years of pain and a lack of outlets for their femininity.
I consider myself now foolish for having had a stereotypical image of a female soldier in my head. Like other careers, the army contains diverse backgrounds and personalities. The film closes with an epilogue, informing the viewer that a lab manufactured prosthetic ankles for Strock so that she could wear sparkly high heels – highlighting yet again that veterans can be women too. The idea of a pageant specifically designed for these women to highlight their personalities, talents, and histories is a touching one. It let them be themselves while simultaneously raising awareness for a cause close to their hearts, and thanks to this documentary, close to mine.
See also: Ken's review from SXSW Film Festival at Christianity Today.
—
Rachel Davis is a freelance journalist who has previously written feature articles for the Campbell University website.