Provision for children, particularly when there is some disruption of the nuclear family in cultures which are still organized around it, is a universal problem. It cuts beyond distinctions of class or race, nationality or religion. Consequently, the fate of such children is a major theme in literature and film. 
Two films trying to split off from the festival circuit and find a broader audience this week look at young women thrust too early into environments that vacillate between indifference and hostility. The Swan is an Icelandic drama that premiered at TIFF in 2017; Night Comes On was the winner of the Next Innovator Award at Sundance. The former is about a girl sent to live on a farm while on probation for shoplifting. The latter chronicles a teen who is released from juvenile detention who tries to find her father–perhaps to avenge the violence he did against her mother.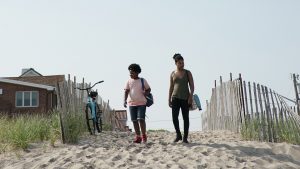 Both films are thought-provoking, but Night Comes On is the stronger of the two. Perhaps because American audiences have seen more cinematic portrayals of African-American life, it comes with more built-in context. Angel Lamere (Dominique Fishback), endures an arms dealer more interested in her body than her money, guides (sort of) her younger sister Abby through her first menstruation, swims in the ocean, stares out of bus windows, and endures the "you're not my mother!" speech from her sibling. We've seen versions of these scenes before, but they feel fresh and authentic here thanks to some keenly observant writing and a terrific performance by Fishback. Like last year's The Florida Project, the film allows young people to have inner lives apart from adults, and by doing so it defamiliarizes its themes and lets us see incidents as things that happen to individual characters rather than classes of people.
The Swan is for those with a bit more eclectic tastes. Sol (Gríma Valsdóttir) is sent to live in the country with her great-aunt and extended family. You don't have the eyes of a thief, the matriarch says in welcome to the girl. She is made to share a bedroom with a frustrated farmhand, Karl, who covets Sol's older cousin. Both man and girl seek escape from rural monotony in stories. She tells fairy tales in her head, he scribbles furiously in a journal that he probably knows no one will ever care enough to read.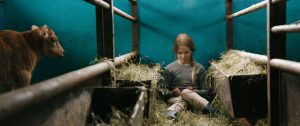 The film mercifully never becomes the Scandanavian Lolita that I kept fearing it was going to morph into. Sol catches Karl masturbating in a field, and he hugs her in bed while they listen to the adults criticize them in the next room. It is perhaps culturally credible that concern for the older girl would make the family indifferent to any possible dangers to Sol's innocence, but the film's ambiguity about the adult-child bond, whatever it is, was unsettling.
The film also never quite invests Sol with an inner world. She is younger than Angel in Night Comes On, so it is probably inevitable that we focus on her circumstances rather than the way she responds to them. The landscape driven cinematography is quite beautiful–add Iceland to the list of places I'd love to visit before the planet melts. And when Sol sneaks into her cousin's room and tries on the older girl's jewelry, the film almost allows the child to become a participant in this rural family drama rather than a docile observer.
The Swan opens in New York on August 10 with other markets to follow. If you can't find Night Comes On in your market, check your preferred VOD platform. It's worth digging a little to find it.