The Shack — Set Visit Report
I was one of only three journalists from the evangelical press invited by Lionsgate to visit the set while The Shack was filming. Here's three things I learned from chatting with the cast and crew in between takes:
"It was important that Stuart was a believer."
How did this self-published novel, rejected by over twenty publishers, get on Hollywood's radar? Lani Netter, who is officially listed as co-producer of The Shack, read the book and brought it to her husband, Gil. Gil Netter had previously worked as a producer on two Academy Award nominated films, The Life of Pi and The Blind Side. Given that those two films were directed by veterans Ang Lee and John Lee Hancock, it may surprise some readers that the producers (the Netters shared credit with Brad Cummings and Mike Drake) picked a director — Stuart Hazeldine — with only one feature credit on his filmography. But Hazeldine also wrote and directed a short film, Christian, about the Son of God visiting a High School disguised as a teen boy. And the producers wanted a director who was a "believer" to handle the film that — however non-traditional its depiction of God — would be looking for a Christian audience.
Avraham Aviv Alush did not look at any other screen depictions of Jesus
The Israeli actor wanted his incarnation to be of a "cool Jesus," but he did not want to be influenced by how others had portrayed the Christ. The actor, whose credits mostly include Israeli television shows, seemed unfazed at playing such an iconic figure — or making a transition from television to film. "[Acting] is the same thing all over [the world]." The biggest difference between being in a Hollywood production and his previous work? "It's a little more money."
"There's so much you find out about yourself."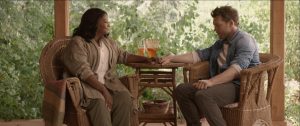 Actors and actresses in faith-themed films are often reluctant to speak openly about their own religious views or experiences — and studios are often protective of them. So when I followed up on Octavia Spencer's assertion that acting is a means of self-discovery, I wasn't really expecting an answer to the question, "What did you find out about yourself by playing God?" After all, it was an experience she was in the middle of rather than one she was reflecting on, and she and co-star Sam Worthington had literally just finished eight takes of an emotionally intense scene when they were ushered into the press tent. It would have been easy to deflect the question, but she said she wanted to answer, calling her role as Papa "the most humbling experience" of her career to date. Faith, in the film, is meant to be presented as something "strong" and "beautiful."  Worthington, too, appeared to feel a kinship with his character, Mack Phillips. The actor, who celebrated the birth of his first child just prior to filming, said "I think I've spent thirty-eight years preparing for [this role]."
The Shack opens in theaters on March 3, 2017.